There is some scary stuff going down at Farm Supply this month!
Besides looking forward to our Annual Great Pumpkin and Scarecrow Contest, October 20th downtown San Luis Obispo, we have some additional spooky fun brewing. (Okay, I'll stop trying to be cute with the Halloween verbiage!) Starting Saturday, October 1, you will see some Scarecrows around our stores, they will be created by our local 4-H and FFA Groups for a chance to own bragging rights and an automatic entry into the Great Pumpkin Scarecrow Contest mentioned above. There are cash rewards to be won, that will help these young people pursue their goals in agriculture. You can get involved by voting, no purchase necessary. Just visit any one of our 5 locations.
If that wasn't enough, dress your canine up for our "HOWL-O-WEEN" Dog Costume Contest, Saturday, October 29th in Santa Maria and Paso Robles. The overall winner receives free dog food for 6 months from Nutri Source. There are 3 categories: Scariest, Owner/Dog Combo, and Best Costume. It's gonna be a fun family event, we hope to see you there!
In case you were wondering, we do sell stuff too. (I know more bad jokes. Sorry.)
Farm Supply is featuring Traeger Wood Fired Grills this month. They are easy to use and very cool looking! Com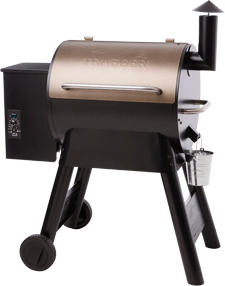 e on in and see our selection of Pro and Elite models. For more information on Traeger, you can visit their website at http://www.traegergrills.com/. I perused their website and this tidbit of info jumped out at me:
Set it & forget it, Traeger makes cooking simple
The auger at the bottom of the hopper pulls the hardwood pellets into the fire pot where they contact the hot rod and ignite. Set the temperature to the desired setting and begin cooking, convection-style heat cooks food evenly and encircles food with delicious and flavorful smoke.
Also, they have dozens of recipes (a selling point for me) and I can't wait to try the "Autumn Cider Brined Turkey Breast", it looks delicious!
While you are grilling your fabulous meal, talking to your friends, you might need a Yeti Tumbler to keep your apple cider hot. Or cold. Actually SUPER COLD. One of my co-workers tagged the line regarding Yeti products, "Created for every life adventure." So, be adventurous! Use your Yeti! I'll be enjoying mine on the patio while my Autumn Cider Brined Turkey Breast is cooking.
There's more stuff in October to check out:  Alaska Men's Flannel Shirts, Wild Bird Seed, Wilco Ground Squirrel Bait, and Weaver Horse Blankets. See the product specials tab on our website or call us, we love talking to you!
So come visit us for all of the "Farmer in You" stuff. And Traeger Grills. Plus Scarecrows and Dog Costume Contests. Giant Pumpkins. And lastly, just because we like you.