History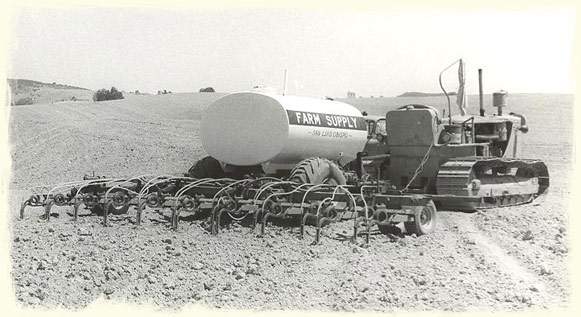 San Luis Obispo County Farm Supply Company, Inc. (FSC) was established in 1950 as an agricultural supply cooperative to serve the members of the Farm Bureau.
Humble Beginnings
Little more than an 18-by-20-foot room with $400 worth of inventory, the first Farm Supply Company store was located on Monterey Street in San Luis Obispo.
Established to sell fertilizer at reasonable prices and to distribute post-war surplus equipment, Farm Supply was vital for local agriculture. Until the late '60s a large part of Farm Supply's business was selling to and servicing local dairies.
In 1965, Farm Supply purchased Walty Pump Company and established its Pump Department. This department has become a vital part of our service line to our members and customers, who range from vineyards and ranches to concrete plants and even local bakeries! We offer the highest quality materials, current technology, and reliable service to ensure dependable operation.
From 1966 to 2004 Farm Supply was at 675 Tank Farm Road in a building purchased and built by the Farm Bureau. In 2004, Farm Supply built a brand new facility at its current location at 224 Tank Farm Road.
In July 1977, Farm Supply purchased Cal Tech Chemical in Paso Robles. In 1988, Farm Supply opened a store in Morro Bay, but due to facility limitations, it was closed in 1998. In 1989, Farm Supply purchased Hanson Hardware on the corner of Main Street and Blosser in Santa Maria. In 2003, Farm Supply purchased the E.C. Loomis and Son feed store and in 2004 moved to the current location on El Camino Real in Arroyo Grande. In 2007 Farm Supply purchased the Roemer's business and moved our Santa Maria location to the Roemer's facility on 1920 N. Broadway.
In September 2011, we opened our fifth location in Buellton on 700 McMurray Road. Four weeks later we traded properties with AJ Contractors in Paso Robles and our new store is located on 2450 Ramada Drive.
We've come a long way since 1950, and with any luck, here's to many more years of serving the farmer in everyone!