Some people may think dog coats are silly, but there are reasons a dog can benefit from wearing one in cold weather.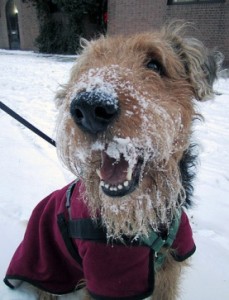 Dog coats are not just a dress up item; they are a necessity for some dogs and weather conditions.
Encouragement
Some dogs are hesitant to step outside in the cold. It may take some encouragement to get them out the door to face a walk in the frigid snow. The added warmth of a coat designed for those conditions can help motivate your dog to go out into the chilly weather. If your dog is comfortable, he is more likely to cooperate and go out for the exercise he needs or to answer nature's call.
Age
Like humans, as dogs age their ability to handle the cold may lessen. They can't migrate south for the winter, and may not be able to adapt fully to cold weather. As their guardian, it's up to you to provide alternatives to help keep your dog as comfortable as possible in cold weather.
Puppies are also more susceptible to very cold or snowy weather. Their coat may not keep them warm, since they have not developed their full coats yet.
Illness
When your dog is sick or injured, he may be more susceptible to the effects of cold temperatures than when he is healthy. Resistance is lowered if your dog is not feeling well. Helping your pet maintain warmth in the cold will help keep him healthy.
Weather Extremes
Your dog may handle normal ranges of cold weather just fine. However, when the most extreme winter weather kicks in, the addition of a winter coat may be just the right thing to help them cope with the chill.
Size and Breed
The size and breed of your dog may determine the necessity of wearing warm outerwear to help combat extreme weather.  Long or thick haired dog breeds are not likely to need the extra coverage and warmth a dog coat provides. They can overheat with the extra warmth. Dogs with naturally thick and long heavy coats are more likely to be built for the cold already. Dogs with short hair or breeds that have no thick undercoat are more likely to enjoy the added warmth.
Slender breeds or very small breeds can benefit from the extra warmth of a coat as well. Tiny dogs are just not equipped to handle the extreme winter temperatures. Slender breeds may not have the body mass needed to help keep them warm in the cold.
When to Put a Coat on Your Dog
Keep an eye on your dog in extremely cold weather. Their physical reactions and behavior changes can help you decide if they need a dog coat to stay warm. If your dog is shivering or wants to burrow down in warm bedding, they may be struggling to stay warm, even inside. In particularly cold climes, your dog may even need the added warmth a coat provides while indoors as well as out.
Dog coats vary greatly. Choose the appropriate fabric and style for your dog's needs. Waterproof or resistant fabrics are a good choice in really wet weather. Wool or warm fleece are other options.
As a responsible pet owner, you may have to help your dog deal with chilly weather by putting a coat on them before they go outside to brave the biting winter cold. If your dog has never worn a coat and seems hesitant to put one on, offer them a tasty CANIDAE treat to facilitate the process. Once they see how much warmer and comfortable they are in their new coat, they'll likely be more than willing to wear it!
By Laurie Darroch
Top photo by Lulu Hoeller/Flickr
Bottom photo by Jerry Clack/Flickr