Events Calendar
Saturday, September 21st
Pickling Your Fall Favorites Clinic
Fall Canning Clinic
Presented by Tami Reece
of Rose Petal Ranch
SLO Store
September 21, 2019
9am-11am
It's not just cucumbers any more! You can pickle fruits and vegetables using fermentation with crocks, water bath canning and even pickles in your refrigerator overnight. Learn to preserve your gardens harvest or at least what to do with what's in your Tally Farms box!
The clinic is FREE to attend. Save your seat by contacting 805.543.3751.
View More
View Less
---
Saturday, September 28th
Fall Succulent Planting Clinic
Presented by
SLO Nursery Staff
Saturday, September 28
SLO Store
9-11am
Learn how to plant succulents and decorate for fall using succulent plants from your garden.
To reserve your seat contact (805) 543-3751.
View More
View Less
---
Saturday, October 5th
4th Annual 4-H & FFA Scarecrow Festival
FREE to enter!
Welcome the Fall Season by building a scarecrow with your 4-H Club or FFA Chapter. Use your imagination, get creative and have fun!
How to Enter:
Please review the rules /files/2019 4-H FFA Scarecrow Fest_Rules and Guidelines.pdf and complete the entry form below on this page.
OR download the Scarecrow Contest Application /files/SCARECROW FEST 2019_Entry Form.pdf, (PDF) print, complete and then mail, fax or e-mail to:
Farm Supply Company
Attn: Diana Melero
224 Tank Farm Road
San Luis Obispo, CA 93401
Fax: 805.543-0613
Email: Dmelero@farmsupplycompany.com
Contact us at 805-543-3751 or e-mail Dmelero@farmsupplycompany.com for more information.
Deadline to Enter:
Friday, September 27, 2019, at 5:00 pm

View More
View Less
---
Thursday, October 17th
14th Annual Great Pumpkin & Scarecrow Contest
Farm Supply presents the 14th Annual Central Coast Great Pumpkin and Scarecrow Contest on Thursday, October 17th from 4-7pm at Mission Plaza, Downtown San Luis Obispo. There will be GIANT pumpkins, most beautiful and unusual pumpkins, creative scarecrows, hop-in pumpkin photobooth, face painting, tractors, and activities for the entire family! Join us as we honor our local agricultural community and crown the winner of the heaviest pumpkin grown on the Central Coast.
How to Enter:
Download the Great Pumpkin & Scarecrow Contest Entry Form: /files/14th Annual Great Pumpkin and Scarecrow Contest Entry Form.pdf
Any questions, contact Diana Melero at (805) 543-3751 or events@farmsupplycompany.com.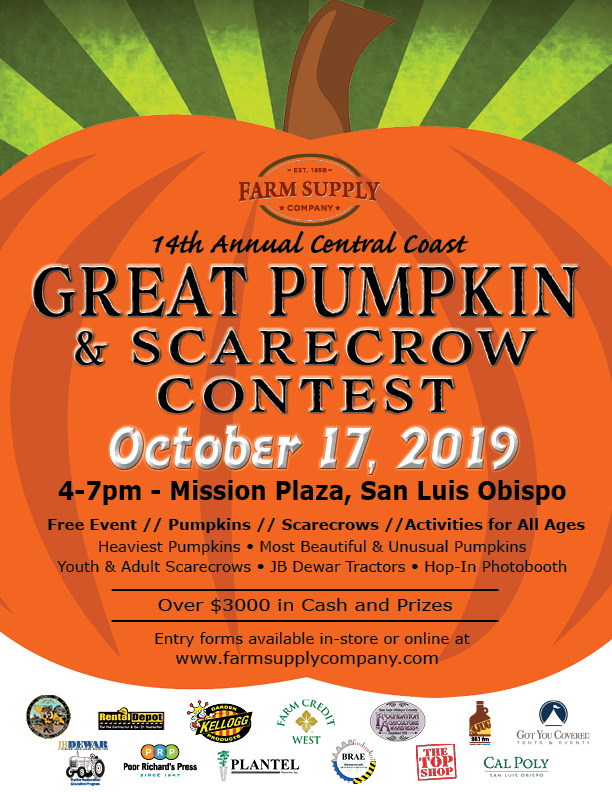 View More
View Less
---
Saturday, November 9th
Backyard Orchard Culture Clinic w/ Tom Spellman
Are you thinking about planting fruit trees?
Join us Saturday, November 9 at Farm Supply in San Luis Obispo for our Backyard Orchard Culture Clinic - Presented by Tom Spellman of Dave Wilson Nursery.
The clinic is FREE and will take place from 10am-12pm.
Tom will discuss fruit varieties and how to keep trees producing all year long.
REMINDER! All clinics are held outside, so please dress warmly.
RSVP is not required but highly suggested.
For more details contact 805.543.3751 or email dmelero@farmsupplycompany.com
View More
View Less